At TDM Library, we are dedicated to helping you create a culture of inclusion and understanding at your organization. From inclusive leadership to inclusive language, retention strategies to cultural competence, our curated content covers a wide range of DEI topics to support your professional growth and organization's success.
📚 Access to 1,000+ pieces of trusted content, including checklists and bite-sized videos, all within one intuitive platform
👩‍🏫 Insights from Certified Diversity Executives, PhDs, award-winning educators, and business leaders
📖 Step-by-step guidebooks for enhancing your professional programming, communication, and strategy skills
Everything in TDM Library plus...
Celebrating diverse holidays and observances is a wonderful way to learn about different dimensions of diversity. However, many organizations do not know how to create authentic and respectful programming and do not have reliable resources to tell them how. The Diversity Holidays Toolkit subscription provides ready-to-go content that has been created by our DEI experts to help your organization connect celebrating holidays and observances to your organization's DEI strategy.
This Diversity Holidays Toolkit subscription includes:
🗓️ 2024 Calendar
Our calendar of 150+ holidays and observances, with links to 80+ blogs and guidebooks on how to observe them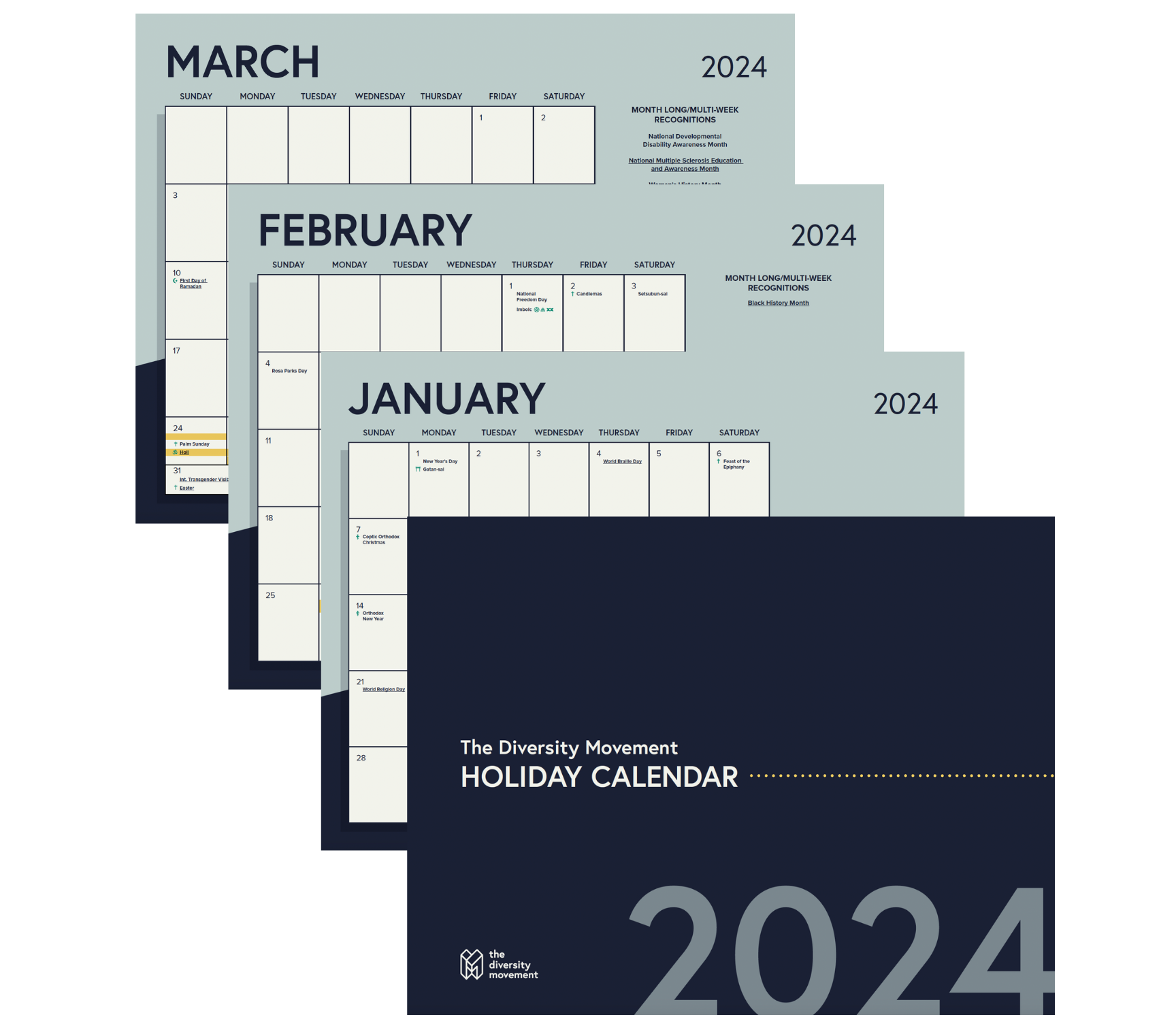 📬 Emails & Events
Monthly email sharing resources for the key holidays for the upcoming month to help you prepare & 1-hour quarterly optional virtual roundtables to learn best practices and ask questions
🎥 MicroVideos
24 educational MicroVideos on holidays and observances throughout the year to share with your entire organization
🔥 Social Content
Graphics for 18 holidays and observances that can be used on social media and in internal employee communication channels
---
Already a member of the TDM Library + Diversity Holidays Toolkit tier? Access your Diversity Holidays Toolkit Dashboard below!