The most budget-friendly way to give your team the knowledge needed to build an inclusive organization
Inclusive organizations provide access to learning that results in higher employee engagement, productivity, adaptability, and retention. But with DEI budgets being cut, how can you scale culture-building learning at a price you can afford? The answer is TDM Library for Teams.
Built through our work with hundreds of organizations, TDM Library resources, tools, and expert advice enable teams to become more effective and productive by integrating DEI best practices into everyday work. Whether you are a member of a DEI council, employee resource group or marketing team, our easy to understand TDM Library guides, checklists, articles, templates and videos enable you to apply DEI concepts right away to deliver impact across your organization.
Preview the Platform
Explore topics for key teams and roles, together
Created by Certified Diversity Executives, PhDs, award-winning educators, and business leaders, the resources in TDM Library don't stop at the basics. Our collection dives deep into advanced topics, including best practices for inclusive leadership, supplier diversity, talent acquisition, employee resource groups, and C-suite engagement. By exploring these topics together, your team becomes a united force, creating a more inclusive and innovative culture.
DEI Councils: Spend less time researching best practices and answering common questions from staff. Spread knowledge faster with our how-to guides and templates on topics such as supplier diversity, measuring the ROI of DEI, and more.
Employee Resource Groups: TDM Library provides your roadmap to success with guidance on building an ERG from the ground up, pitfalls to avoid, programming ideas, getting executive buy-in, and more.
Marketing Teams: Learn how to authentically identify, reach, and resonate with your audiences with inclusive marketing how-to guides covering topics such as digital accessibility, employer branding, avoiding backlash, and more.
Executive Teams: Empower your leadership team to hone their inclusive leadership skills and build more productive, collaborative, and innovative teams with customized learning journeys.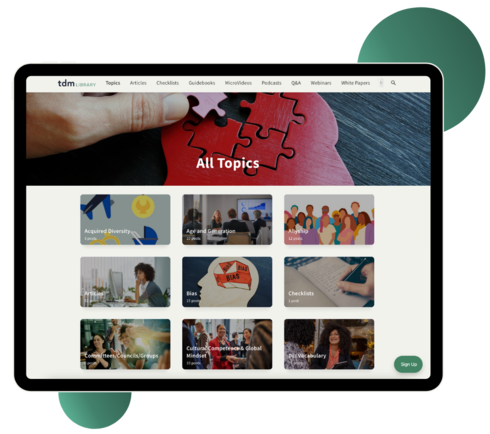 What Does It Include and Why Is It Different?
TDM Library includes a searchable library of actionable content in over 30 topical areas including inclusive leadership, inclusive language, and foundational DEI content to equip you with practical knowledge before your next meeting or conversation. Build psychological safety for team members through our private learning environment. Trust that employees have access to a centralized database of accurate information. To reinforce your knowledge, we have monthly sessions with experts from our team and other TDM Library for Teams members to help answer "how-to" questions as you address key challenges in scaling DEI in your organization.
The Investment
TDM Library for Teams costs less than sending your team to a conference or an event for training. The investment is $99 per year* per member of your team.
*Volume discounts are available when you enroll more than 50 members of your team at once.
Unlock the tools needed to build a thriving culture.
Contact info@thediversitymovement.com to learn more!