Meet Jackie Ferguson, Head of Content and Programming
(Note: A version of this article appears in the September issue of Cary Magazine and at carymagazine.com, where Jackie was named a 2022 Women of Western Wake Honoree.)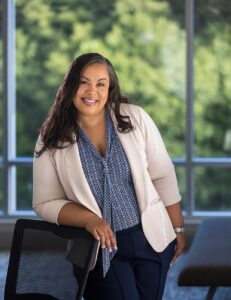 Jackie Ferguson
It was 3 a.m. on June 11, 2020, and Jackie Ferguson was wide awake. In just a few hours she would be leading a virtual interactive presentation for more than 300 people attending the North Carolina Chamber's Diversity and Inclusion Conference. It was her first speaking engagement, and she was terrified.
But she could have relaxed and gone back to bed, because everything in her life so far had prepared her for that moment. In addition to decades of advocating for equality and inclusion, Jackie had an innate appreciation for diversity, backed up by countless hours of hard work and preparation.
"I questioned, why do people want to hear from me? I did that for a really long time," says Jackie, co-founder and head of content and programming at The Diversity Movement (TDM).
"Now, after more than 100 speaking engagements, not only am I confident that I have something valuable to contribute, I am focused on how what I do impacts people, businesses and communities every day."